Remodeling or Replacing Existing Staircases
In an existing home, changing the shape of a staircase can be both costly and complicated. An easier and more affordable way to add impact to your staircase is to replace or refurbish stair parts: treads, balusters, newel posts and handrails.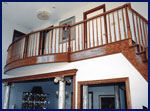 Here are some design tips for both new and existing homes:
Combine hardwood staircase components – newel posts, balusters and handrails – to create a striking balcony or room divider.
Choose complementary woods for the stairs and hardwood floors, then add inlays of contrasting wood for a rich, visual accent in the flooring.
Select stair components that reflect the architectural design of your home. For example, a contemporary stairway might feature lightly stained or naturally finished stair treads and a simple handrail. A more formal decor might feature tall, thin balusters with a darkly stained handrail.
Stair treads, landings and changes in stair levels should be well-lighted.
Be sure that stair balusters are closely enough spaced so children or pets cannot fall through or get stuck. Code requires that a four-inch ball cannot pass between two balusters.
Stair Parts Made Here
Custom milled from any hardwood species:
Parts for installation:
Newel fasteners and templates
Baluster bolts