why our staircases | how durable are hardwood stairs | staircases in a new home

remodeling or replacing existing staircases | stair parts made here | our hardwood line:Flash Movie
Whether you are building a new house or remodeling your current home, a custom hardwood staircase by Fat Andy's Hardwoods is the perfect way to make a dramatic impression. Staircasing is an area of woodworking which has been badly neglected for many years to such an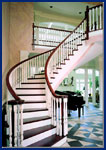 extent that the skills required to construct them have also suffered and to many companies been lost. At Fat Andy's Hardwoods we have a special interest in staircase building. We are, as a result, able to offer a service in staircase construction which few can match.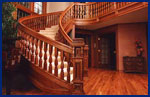 Using a variety of domestic or exotic woods and other architectural materials, we can produce different types of hardwood staircase styles. Each staircase is hand-crafted to the exact precision pitch to form a smooth and even flowing elegance. It is engineered for sturdy construction while being aesthetically pleasing.

Only the finest materials are used in our stairways. That means premium grade Oak, Mahogany, Maple, Walnut, Cherry, and many other Hardwoods. All custom stairways are hand built by proven craftsmen, making each stairway a beautiful work of art.
A hardwood staircase, like hardwood flooring, adds character, beauty, and resale value to any home or commercial property,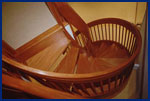 and the durability of hardwood is a plus when it comes to stairs, according to the Hardwood Information Center, a service of the Hardwood Manufacturers Association, an industry trade group.
For example, do you want your staircase to be a part of a grand entry? Or located off the family room? Do you want one or more mid-level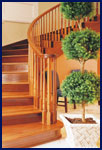 landings? Or a continuous run, from top to bottom? Such hardwood species as oak, cherry and maple continue to be among the most popular choices for staircases.
Fat Andy's Hardwoods can tell you what is structurally feasible, and we can help you select a style appropriate to your tastes.
In an existing home, changing the shape of a staircase can be both costly and complicated. An easier and more affordable way to add impact to your staircase is to replace or refurbish stair parts: treads, balusters, newel posts and handrails.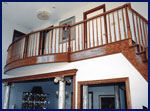 Here are some design tips for both new and existing homes:
Combine hardwood staircase components – newel posts, balusters and handrails – to create a striking balcony or room divider.
Choose complementary woods for the stairs and hardwood floors, then add inlays of contrasting wood for a rich, visual accent in the flooring.
Select stair components that reflect the architectural design of your home. For example, a contemporary stairway might feature lightly stained or naturally finished stair treads and a simple handrail. A more formal decor might feature tall, thin balusters with a darkly stained handrail.
Stair treads, landings and changes in stair levels should be well-lighted.
Be sure that stair balusters are closely enough spaced so children or pets cannot fall through or get stuck. Code requires that a four-inch ball cannot pass between two balusters.
Custom milled from any hardwood species:
Square balusters and newel posts
Handrails
Treads and Risers
Skirting
Parts for installation:
Newel fasteners and templates
Baluster bolts