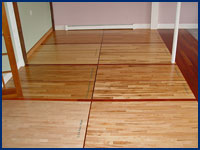 When you visit Fat Andy's Hardwood, Inc. showroom in North Yarmouth you will see a number of different hardwood floors in a natural setting. Our hardwood flooring selections are installed in a manner that gives you a clear sense of how these floors would look in your home.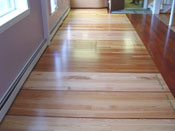 In our showroom, we have 33 different hardwood flooring styles presented in our showrooms hardwoods floors. These floors consist of the following hardwoods: white oak, red oak, rustic red oak, maple, rustic maple plank, natural birds eye maple plank, natural tiger maple plank, ash, white ash. birch, red birch, rustic birch, rustic red birch plank, brazilian cherry, cherry strip, eastern wide pine, premium heart pine, and natural hickory plank.

Please take the time to view our floors via the thumbnails below. A larger image of our flooring will be displayed in the center of your viewing screen when you click on the associated thumbnail. Please be patient while these high quality images load.

2 1/4 select white oak

2 1/4 mill run maple

2 1/4 select red birch

2 1/4 select maple

3 1/4 mill run ash

3 1/ 4 mill run birch

3 1/ 4 number 1 common white oak

3 1/4 rustic birch

3 1/4 rustic red oak

3 1/4 select white ash

4 in. brazilian cherry select

eastern wide pine

natural birdseye maple plank

natural hickory select plank

premium heart pine

red oak 2 1/4 number 1 common

red oak 2 1/4 select

red oak 3 1/4 number 1 common

rustic maple plank

rustic red birch

select cherry 2 1/4 strip

select heart pine

red oak 2 1/4 select