Hardwood Floors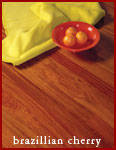 Hardwood flooring can last for decades. It insulates well and improves the frame strength of a house. It helps a home sell faster and can add a spike to its selling price. Also hardwood flooring has two major benefits over carpeting:
Easier to clean than carpeting
Better for people who have carpet allergies. New carpets can be a source of chemical emissions. Carpet emits volatile organic compounds, as do products that accompany carpet installation such as adhesives and padding. Some people report symptoms such as eye, nose and throat irritation; headaches; skin irritations; shortness of breath or cough; and fatigue, which they may associate with new carpet installation. Carpet can also act as a "sink" for chemical and biological pollutants including pesticides, dust mites, and fungi.(see Indoor Air Publications)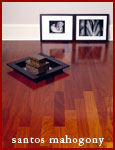 But for all its substantial benefits, wood flooring is generally chosen for a different reason altogether. Hardwood floors just make a house feel like home. Regardless of age, species or color of the flooring, the addition of wood adds an aesthetic warmth that's hard to beat. Even an old wood floor, long past its prime, has a rustic quality that makes a room feel comfortable and relaxed.
Before you commit to installing a hardwood floor, you'll want to learn about the various wood flooring choices available, the characteristics of various species of woods, and the benefits and limitations of each one. There are also specific considerations to address before you have a hardwood floor installed. Visit our showroom to learn about the many options to choose from.
Our Line Of Hardwood Floors

Fat Andy's manufactures custom floors from many different species. We use only top quality kiln dried hardwood and softwood lumber to produce floors to your milled specifications and in the species of your choice. We manufacture wide pine flooring, wide domestic hardwood floors, Brazilian cherry and curly maple.

Fat Andy's also distributes standard strip flooring for some of the finest mills in the United States and Canada. Amongst the options are birch, maple, cherry, red oak, white oak, and ash in 2 1/4" and 3 1/4" widths. The grades range from mill run and #1 common to select.
Call or visit our showroom for current pricing and lead times.