Who We Are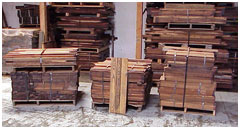 Fat Andy's is a full service hardwood distribution center located in North Yarmouth, Maine. We are a manufacturer and distributor of hardwood flooring, lumber, and moldings.
Fat Andy's began as a source of quality hardwood for the fine furniture makers and custom boat builders of Maine. Through adherence to the highest standards Fat Andy's has grown into a full service facility shipping it's products nationally.
Our knowledgeable staff has over fifty years of experience in the hardwood lumber industry. We are experts in the purchase of standing timber, log procurement, grading, kiln drying, milling, manufacturing custom moldings, custom hardwood flooring and custom hardwood stairways and their respective installations.
What's In A Name
The most frequently asked question at Fat Andy's is about our name. Several years ago when Andy Walsh, the founder of Fat Andy's Hardwoods, was in the lumber business on the west coast he decided to invest in a sandwich shop with his brother-in-law.The sandwich shop was to be called Pat and Andy's. And Andy's daughter, who was two years old at the time, pronounced the name Phat Andy's. Hence, the name Fat Andy's.

Fat Andy's was not a big success as a sandwich shop and closed about two years later. When Andy sold his interest in his west coast lumber business and moved to Maine, he used the Fat Andy's Corporate Charter from the old sandwich shop to make a lumber shipment and we became Fat Andy's.
Fat Andy's logo, a laughing Buddah, is copied from a wood carving Andy picked up in Bangkok, Thailand on his first teak buying trip.