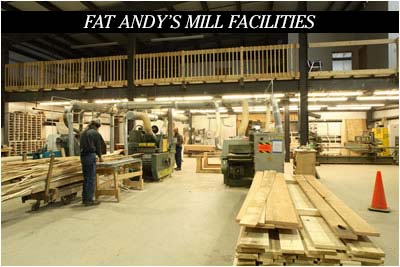 Continually Serving
Our Customers Needs with
~ Quality Hardwoods ~
~ Quality Service ~
~ Quality Value ~
Fat Andy's Hardwood of North Yarmouth, Maine has an extensive line of domestic hardwood lumber, and manufactures and distributes custom hardwood flooring, moldings, stair parts, and countertops.
Fat Andy's Hardwood has one of the most extensive online hardwood molding catalogs, and has the ability to match molding profiles, making our own knives on-site.
Fat Andy's Hardwood's knowledgeable staff has many years of experience in the hardwood lumber industry in Maine, the U.S., and hardwood regions outside the United States.
ANOTHER SATISFIED CUSTOMER
AT FAT ANDY'S HARDWOOD, Inc.
Hi Andy,
Everyone involved with the project is blown away by the custom mahogany doors your shop fabricated. Kudos on a job well done. By meeting our very tight schedule requirements and manufacturing a product that was installed without issue, we achieved both our opening schedule for the restaurant and kept the aesthetic of the building front intact. You should be proud of the product you put out and we will not hesitate to call on your expertise in the future. Again, thank you for your efforts.
Best regards,
Scott M. Holt
Project Manager
Buck Consulting Group, LLC
16 Tannery Lane, Suite 23
PO Box 1367
Camden, Maine 04843